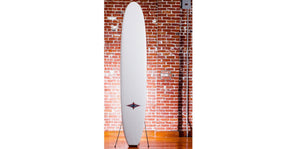 Making of the 'Endless Summer 1963 Replica' Board
A few years ago we started thinking about recreating the iconic board that Robert rode in Bruce Brown's film, 'The Endless Summer'. Unfortunately, Robert's original board from the movie is long gone. (Who could have guessed it would be so valuable in the future?!) Without the original board available to copy, Robert and our head shaper Mike Minchinton set out to create a board just like it. Robert and Mike sat down to watch 'The Endless Summer' stopping at scenes where the board can clearly be seen, along with scouring through and studying old photos from our archives. Creating a template for a board like this is difficult on its own but even more difficult when the only aids you have are scenes from a movie, photos and memories from over 50 years ago. Nonetheless Mike and Robert were able to identify key features in the boards design, like its wide point near the middle of the board, its narrower nose, and its 50/50 rails. 
After plenty of review, the result was a board that's as close to the real thing as possible, down to every last detail. For this board we decided to only use US Blanks, based in Gardena, that come with a 3/4" dark wood stringer to add weight to the shape. Mike hand shapes every board and adds a custom and totally unique layered wood tail block for quality and style. The board is topped off with a solid white opaque resin finish that covers almost the entire board including the custom 13"x9.5" glass-on fin made by Rainbow Fin Company. In the end, they come in at 10 feet long and weigh over 20 lbs. All of the small details that were considered were essential in replicating the look and feel of the original thing and Robert and Mike absolutely nailed it.
While this board is an amazing collectors item that some prefer to display on a wall or in a showroom, we can't help but brag that they are 100% rideable and some of our past customers absolutely love the way they feel in the water.
Each limited edition surfboard (of 300) features a framed/numbered certificate of authenticity signed by Robert August. 
---